"8" Reasons to Make Elevate Delta 8 Infused Gummies Part of Your Daily Regimen
Make Elevate Delta 8 Gummies Part of Your Daily Regimen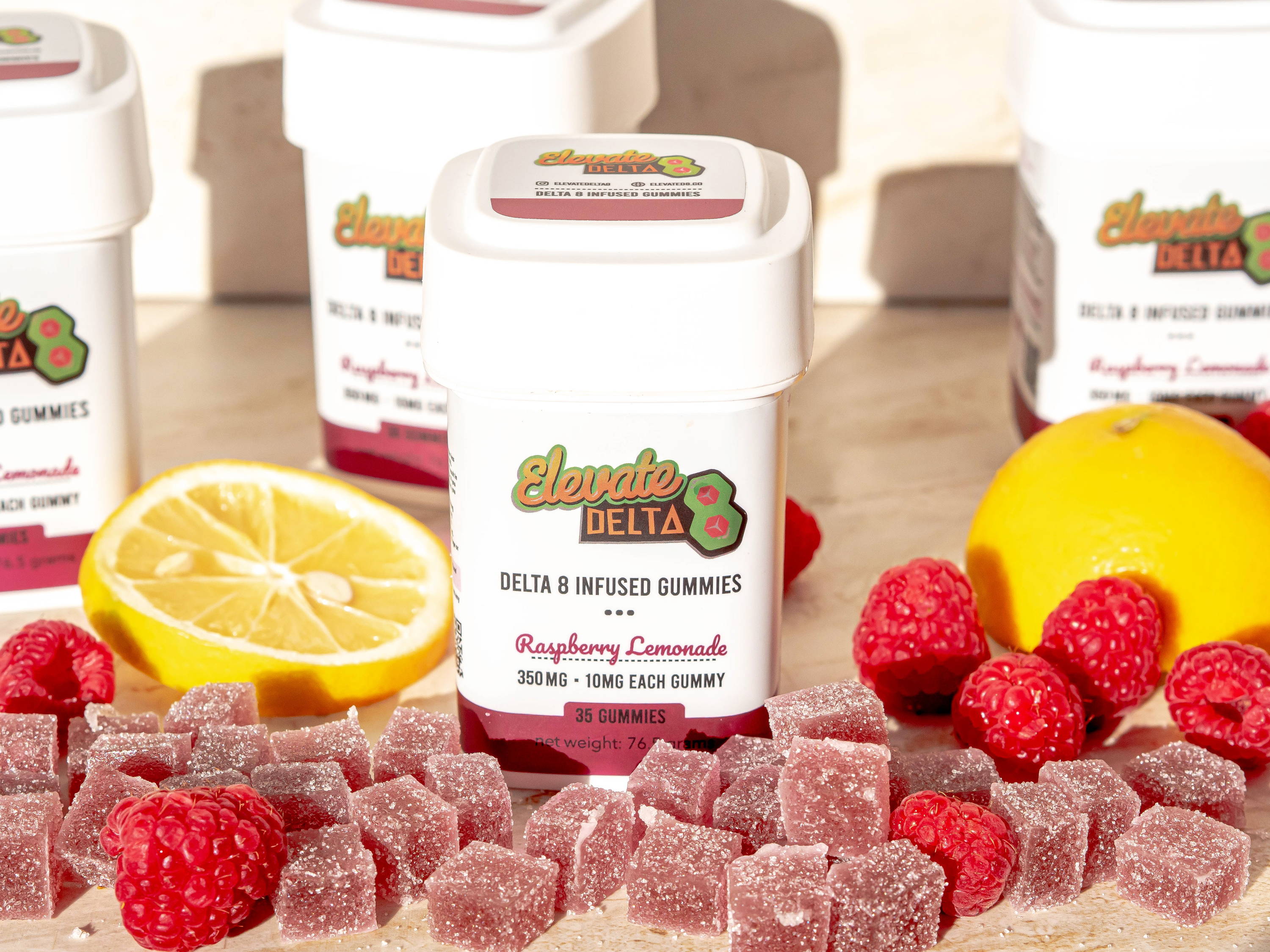 "8" Reasons to Try Elevate D8:
Elevate Delta 8 THC Infused Gummies are among the highest-quality delta-8 gummies you'll find on the market today, and we worked tirelessly to deliver a formula that's bioavailable, easy on the digestive system and ideal for daily use.  Each gummy contains an active dose of pure delta 8 extract that is derived from the hemp plant and compliant with federal law.  Formulated with exceptionally sourced ingredients, they boast everything you could possibly ask for when it comes to an edible.
Want to Know How Elevate Delta 8 Infused Gummies Can Be an Awesome Part of Your Daily Routine?
Because our company has put so much effort into crafting the finest delta 8 THC gummies we possibly could, we're eager to share with you the qualities that set these apart from many others that you'll come across when you go cannabinoid shopping.
#1: Gummies Deliver Long-Lasting Effects That Can Get You Through Your Day
Gummies offer a unique type of delivery method into the body, in which the compound offers the longest-lasting effects of all of the different types of delta 8 THC consumption forms.  When we eat edibles, the effects can last for up to 8-hours, which, when compared to vaping products, is up to 8x the duration of effectiveness.  It can take up to 2 hours for the effects to really kick in, so bear this in mind when developing your dosing schedule.
Because the effects can last for so long, gummies are a great option for daily use.  You will feel the effects at work in the body as you go about your day, and most people require only a single dose to get them through the day ahead.
#2: Each Dose Offers 10 Milligrams of Carefully Extracted Delta 8 THC
We have infused each gummy with precisely 10 milligrams of delta 8 THC, which is an excellent amount for daily use which we considered with all of our knowledge on this cannabinoid.  In fact, 10 milligrams are a great beginner dose, as the effects shouldn't be overwhelming, although those who might still be hesitant are free to take a half of a gummy in the beginning.
Those who end up desiring more delta 8 per dose can take two gummies at a time, which offers 20 milligrams.  The suggested amount per dose is between 10 and 25 milligrams, so doubling up will still keep you within the recommended strength per day.
#3: The Hemp in Each Gummy Has Been Tested by a Certified Third-Party Lab
Here at Elevate Delta 8, we take our responsibilities to our customers seriously by ensuring that every package of gummies we sell contains delta 8 THC that has been tested by a third-party laboratory that is certified with the state.  This testing process checks the delta 8 extract for microbes, impurities and other undesirable elements that disrupt the purity and bioavailability levels that we want to achieve.  These lab reports are on display on our website, so that customers can see for themselves that we have nothing to hide when it comes to the quality of delta-8 goods that we produce.
#4: You Can Choose from a Variety of Mouthwatering Flavors
Of course, you're more likely to look forward to each daily dose of delta 8 if that dose satisfies you with outstanding flavor.
Green Apple: Tart and crisp green apple with the perfect amount of sweetness
Strawberry Watermelon: A blend of summer-fresh fruits that work together harmoniously while offering the perfect sweetness level.
Tangerine: Bright, juicy and zesty tangerines that refresh the palate and satisfy the sweet tooth.
Raspberry Lemonade: Inspired by pink lemonade, this flavor has that sweet and tangy taste that is impossible to resist.
#5: These Gummies are Free of Harsh Ingredients
When formulating our gummies, we made sure to avoid any ingredients that can cause unwanted effects.  Knowing our customers mostly plan to take these gummies daily, we wanted to use ingredients that you can feel good about putting into your body each day.  You can easily read through our list of ingredients on our website, to see for yourself that we do not use any harsh or dangerous chemicals in our gummies.
#6: The Effects of Gummies are Gentler Than Other Delivery Methods
Some people say that gummies offer somewhat subtler effects than other delivery methods.  For instance, some delivery methods can offer very potent but short-lived effects, and not everyone wants such a strong delta 8 THC experience in a condensed manner.  Gummies spread out the effects over the course of several hours so that you can maintain a clearer mind as you go about your daily activities.
#7: Euphoria Felt in Both the Mind and the Body
Another thing that makes edibles unique is that they produce a "body high" as well as their known effects on our mood and state of mind.  Because of how the compound is dispersed into the bloodstream through the digestive process, many say that they feel stronger feelings of relaxation in the muscles, which enhance the overall feelings of bliss that delta 8 THC can provide.  Keep in mind that delta 8 does not produce the same specific effects in everyone who takes it, as it all depends on how your body utilizes and metabolizes this compound.
#8: We Use a Highly Bioavailable Form of Delta 8 THC
The key to having success with delta 8 is bioavailability.  This is a term used to describe how efficiently the compound absorbs into the body for maximum effectiveness and is dependent on a number of factors like chemical stability, freshness and the extraction method that was used.  We use all of the procedures that are conducive to a high bioavailability rating, starting with the extraction method that isolates the delta 8 compound, all the way to how the gummies are packaged and stored in our facility.  This way, you can count on getting the full effects for which delta-8 is known each time you pop a gummy into your mouth.
Just One Elevate Delta 8 Infused Gummy a Day Can Take Your Routine to the Next Level
Elevate Delta 8 Infused Gummies are a great choice for anyone looking to take this cannabinoid on a daily basis as part of their daily routine.  The formula is gentle on the body yet offers enough bioavailable delta 8 to deliver the desired effects.  Our formula is made with top-rated ingredients, and we ensure that our delta-8 is approved by a third-party lab for maximum quality overall.
"I start my day with 1 Elevate gummy, and I feel amazing through out the day!"