Our 10mg Delta 8 THC gummies deliver a potent one of a kind uplifting and motivating feel with a calming body sensation. Each Elevate Delta 8 jar contains 35 gummies (350mg total Delta 8 THC). We currently offer 4 delicious gummy flavors: green apple, strawberry watermelon, tangerine, and raspberry lemonade.
Total ∆8THC Content: 350mg
∆8THC Content Per Gummy:

10mg

Gummies per Container:

35

Container: Child-resistant jar
Extraction Material: Hemp
∆9THC Content: Less than 0.3%

Ingredients: Sugar, Light Corn Syrup (Corn Syrup, Salt, Vanilla), Water, Beef Gelatin, Pectin, Citric Acid, Natural and Artificial Flavor, Alcohol, Propylene Glycol, Water, Food Coloring (Water, Glycerine, FD&C Red #40, Citric Acid, Sodium Benzoate As Preservative), Hemp Derived Delta 8 Distillate
We believe in creating Delta-8-THC products that improve your quality of life. Every product we make is thoughtfully formulated to keep you feeling amazing.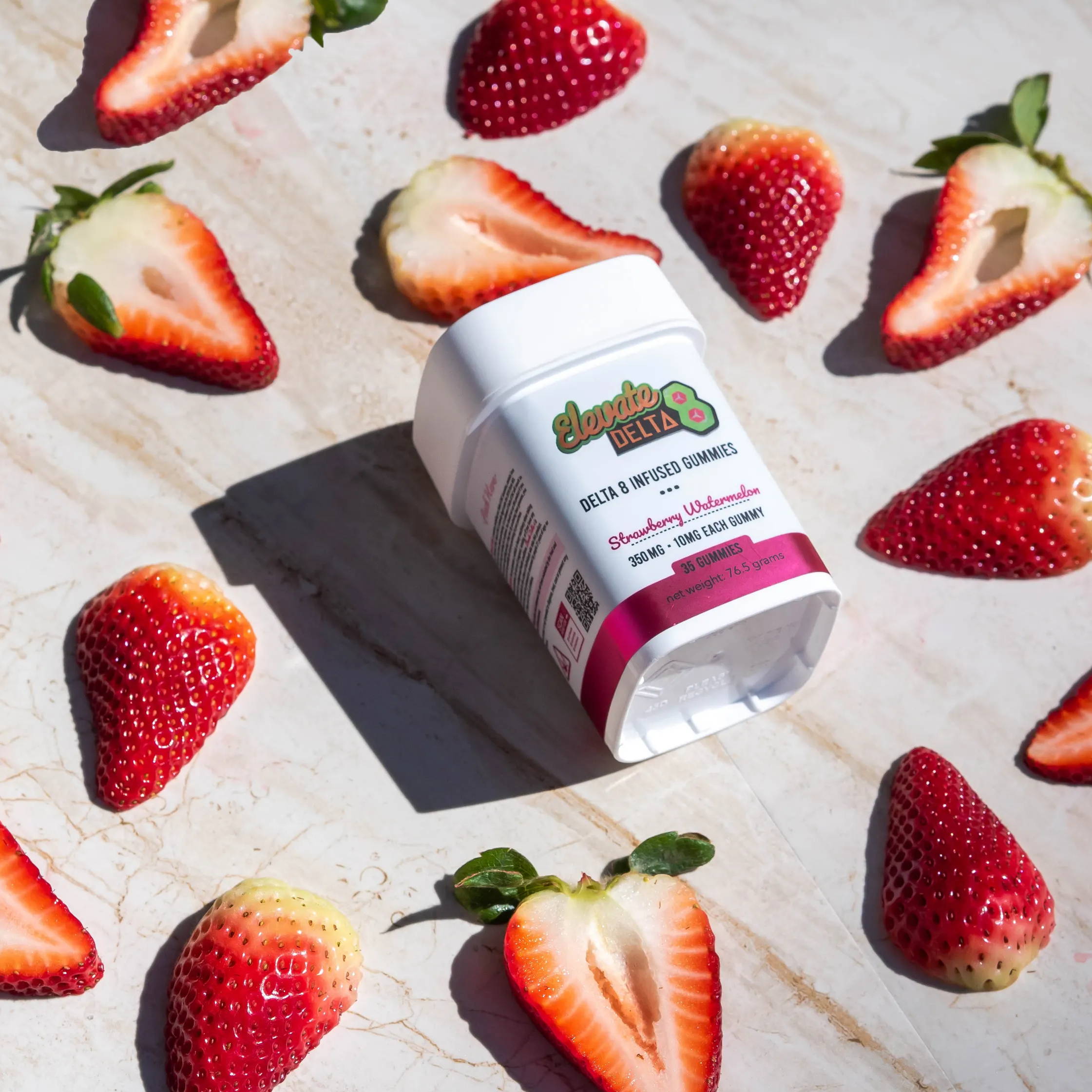 All Elevate Delta 8 products are third-party lab tested to ensure we are providing our customers with a high-quality and safe product.

So what's all the buzz about Delta 8 Gummies? For starters, those looking for a more potent gummy than what they're getting from a CBD gummy would love D8 gummies! Delta-8-THC provides a euphoric, calm, and relaxed feeling when ingested as an edible. Delta 8 edibles are growing in popularity each day, however Delta 8 gummies are by far the most preferred way of receiving the benefits of D8 from an edible. In order to stay safe, It's important to check if the Delta 8 product you are consuming is third party lab-tested before consuming. All Elevate Delta 8 products are third party lab-tested and our lab results can be found here.
What is a Delta 8 Gummy?
Delta 8 gummies are gummies that have been infused with Delta-8-THC. Delta-8-THC is a non psychoactive cannabinoid derived from the hemp plant. Many of the D8 gummies on the market today aren't fully infused and they are coated with Delta-8-THC through an inferior spray-on method. At Elevate Delta 8, we manufacture our gummies from scratch, and we fully infuse our gummies with Delta-8-THC from hemp. Because our D8 gummies are fully infused, we are able to dose our gummies accurately and achieve consistency with each gummy.
Can you get high from Delta 8 Gummies?
The effects from Delta 8 can vary from one person to another, however Delta 8 gummies do not cause the psychoactive effects one feels when consuming Delta 9 THC. What you can expect is a calm and relaxed experience after consuming our gummies. Our Delta-8-THC is processed from USA grown hemp. In addition, all of our products are third party lab-tested to ensure our products are testing our correctly. and that there is less than 0.3% Delta 9 THC in our products. Our D8 edibles should be safely consumed, and we recommend consulting with a doctor if you have any concerns.
Are Delta 8 Gummies safe?
It is our priority to be transparent and provide the market with a safe product. We use the cleanest ingredients in our D8 gummies, and all of our products are third party lab-tested. Unlike other companies, we guarantee any product of ours that is sent to a third party lab for testing will test out with accurate results. Our hemp derived Delta-8-THC comes from the most reputable hemp farmers in the United States. If you do have any concerns about consuming Delta-8-THC, we recommend consulting with a doctor.
What's the dosage and how many Delta 8 Gummies Should I eat?
Each Elevate Delta 8 gummies contains 10mg of hemp derived Delta-8-THC. Each jar contains 35 gummies for a total of 350mg. With that said, we recommend taking no more than 1-2 gummies every 4-6 hours. If you are consuming for the first time, we recommend starting off slow by eating 1 gummy or even half a gummy. Once you've found your comfort level, feel free to consume until you've found your desired amount.
Questions? They're our favorite.
Do you have questions about Delta-8-THC Gummies? We're here to help!
Can I Purchase Delta 8 gummies Legally
Delta-8-THC Gummies can be legally purchased in the following states:
Alabama, California, Colorado, Connecticut, Florida, Georgia, Hawaii, Illinois, Indiana, Kansas, Kentucky, Louisiana, Maine, Maryland, Massachusetts, Michigan, Minnesota, Missouri, Nebraska, New Hampshire, New Jersey, New Mexico, New York, North Carolina, North Dakota, Ohio, Oklahoma, Oregon, Pennsylvania, South Carolina, South Dakota, Tennessee, Texas, Vermont, Virginia, Washington, West Virginia, Wisconsin, Wyoming.
What Benefits Do Delta 8 Gummies Offer
The benefits of Delta-8-THC are akin to CBD. Many individuals choose Delta-8-THC gummies for relief and relaxation.
What Can a First-Time User Expect From Delta 8 Gummies?
A first time Delta-8-THC user can expect a relaxing experience. We advise all individuals to consult with a physician before starting a new supplement.
Can Delta 8 Gummies Reduce Anxiety?
Millions of men and women across the world deal with anxiety. Delta 8 Gummies shouldn't be used to treat anxiety and will not eliminate every day stress. Elevate Delta-8-THC Gummies may provide a great way to chill out and enjoy a break from a hectic day. Elevate Delta 8 Gummies can be easily concealed, which makes them easy and convenient to travel with. Elevate Delta 8 Gummies are not meant to cure or treat any disease or condition.
Delta 8 Gummies Help improve Sleep
Millions of Americans currently suffer from conditions, and Delta 8 Gummies can be a life-saver. Insomnia can lead to a handful of conditions, such as restlessness, stress, weakness, and exhaustion. With that said, insomnia is a medical condition and Delta-8-THC is not used to treat or cure any disease or medical condition. If you have any questions, please consult with your doctor.
Can a Senior Citizen Utilize Delta 8 Gummies?
Delta-8-THC Gummies can be used by all individuals over the age of 21. We recommend consulting a physician before starting any new supplement.
How Many Delta 8 Gummies Should I Eat
Each Elevate Delta-8-THC Gummmy is 10mg. With that said, we recommend starting with 1 gummy before deciding to eat any more. We suggest you take no more than 2 gummies every 4-6 hours.
How Will Delta 8 Gummies Make Me Feel
Elevate Delta 8 Gummies can provide a chill and relaxed feeling. We suggest you consult with a doctor before starting any new supplement.